As the European Commission Call INT12 (2015) 'The cultural, scientific and social dimension of EU-LAC relations' explains: "A shared history, as well as cultural, political and economic ties, closely connect Europe and Latin America and the Caribbean (LAC). Individual countries enjoy close bilateral relations, and cooperation at regional and sub-regional level is gaining momentum.
At bi-regional level, the Strategic Partnership between the EU and LAC was launched in Rio de Janeiro in 1999 and has gradually been upgraded into the current EU-CELAC[1] Partnership. Aided by this process, the two regions have cooperated on a wide range of issues in a number of sectors, including those identified by the EU-CELAC Action Plan and more particularly the Joint Initiative for Research and Innovation (JIRI) adopted at the Madrid Summit in 2010."
The EU-LAC-MUSEUMS project has been designed to address critical issues in the EU-CELAC Action Plan (2013-15), in the realm of small, local museums and their communities.
EU-CELAC Action Plan has been updated, to include Higher Education:
http://www.consilium.europa.eu/media/23757/eu-celac-action-plan.pdf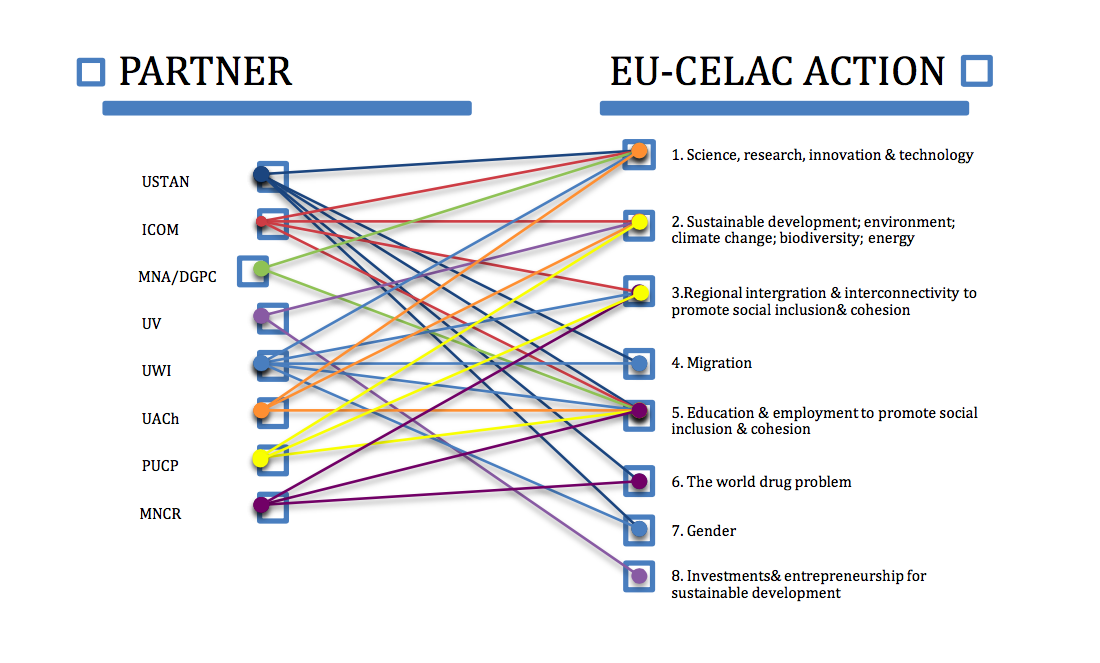 Illustration showing EU-LAC-MUSEUMS partner expertise in relation to the EU-CELAC Action Plan
Today, the European Union is the leading investor in the region, the second largest trading partner after the U.S.A. and a major provider of development cooperation assistance. However, beyond the economic relationship, the EU-CELAC cooperation needs to reinforce the cultural, scientific and social ties and common vision between the two world regions."
Museums can provide vital services to their communities, proving under-represented people a chance to stake a place in history, as well as contributing to sustainability, community empowerment and links between generations. Europe has much to learn from Latin America and the Caribbean in this regard, and our project ethos is based around equal sharing of concepts, experiences, and sustainability surrounding museums and communities in Europe, Latin America and the Caribbean. Maintaining an "historical and a forward-looking perspective" to crosscutting EU-CELAC issues including sustainability, social inclusion, migration, and technology, our project will build an EU--LAC knowledge area in sustainable museums and community in order to build a common voice for regional museums working against social exclusion.
Together, we seek to answer the following key questions in community museology:
 How can we define "community museums" and "sustainability" in bi-regional context?
 What are the most important changes our small-scale museum communities are experiencing in EU and LAC?
 What are the most cutting edge initiatives of museums to promote social inclusion and cohesion in each region?
 How can small-scale regional museums gain agency in promoting best practice amongst museums and policy makers on a global stage?
Our research and innovation project will seek to inform policy on EU-LAC relations in the realm of Culture. It will work with ICOM and the EU-LAC Foundation among other entities to achieve this goal: https://eulacfoundation.org/en