Print
News | Noticias | Nouvelles
Title
VIII Encuentro de Museos Universitarios del Mercosur, V de Latinoamérica y del Caribe y I Encuentro de Museos Universitarios de Perú
VIII Meeting of University Museums of Mercosur, V of Latin America and the Caribbean and I Meeting of University Museums of Peru
Image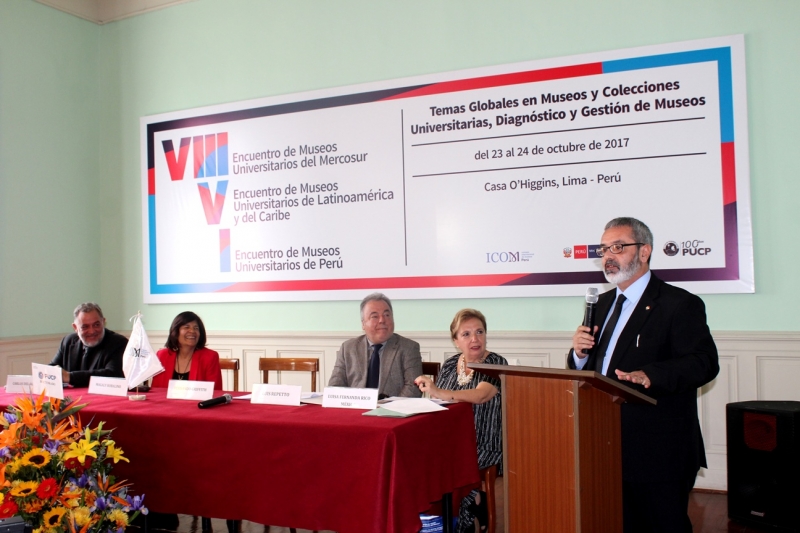 Participation
Se celebró en la Casa O'Higgins de la Pontificia Universidad Católica del Perú, en Lima; el VIII Encuentro de Museos Universitarios del Mercosur, V de Latinoamérica y del Caribe y I Encuentro de Museos Universitarios de Perú los días 23 y 24 de octubre.

Participaron ponentes y oyentes de Argentina, Brasil, Chile, España y Perú, quienes aportaron varias propuestas relacionadas a los museos universitarios a nivel regional. Durante las exposiciones se hizo una presentación del proyecto EULAC Museums al público asistente.

The VIII Meeting of University Museums of Mercosur, V of Latin America and the Caribbean and I Meeting of University Museums of Peru was held at the O'Higgins House of the Pontifical Catholic University of Peru, in Lima on October 23 and 24.

Participants and speakers from Argentina, Brazil, Chile, Spain and Peru contributed several proposals related to university museums at the regional level. A presentation of the EULAC Museums project was made to the attending public.

Type
Encuentro de Museos Universitarios
Organisation
ICOM-Perú, Grupo UMAC en Perú-Comité Internacional para los Museos y Colecciones Universitarias, Pontificia Universidad Católica del Perú