Print
News | Noticias | Nouvelles
Title
Webinar 2: 'Community-based museums in times of crisis: community experience'
Image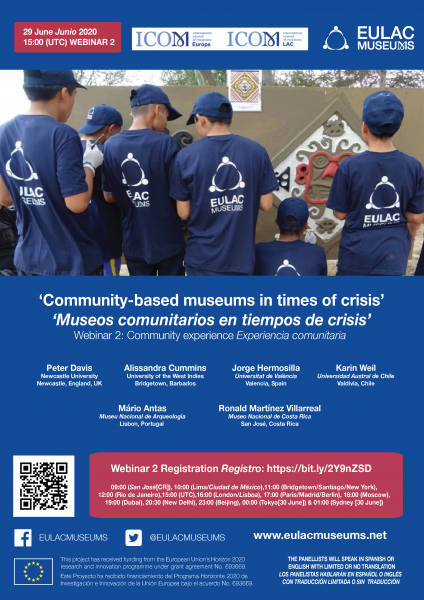 Participation
Register Registro: https://bit.ly/2Y9nZSD

In response to the COVID-19 pandemic and its catastrophic effect on museum and heritage communities, this is the second of three Webinars focusing on the topic of community-based museums in times of crisis.
Since 2016, EU-LAC Museums has supported community-based museums in Europe, Latin America and the Caribbean in partnership with the European and Latin America and Caribbean Regional Alliances of ICOM.

However, in each year of our project's existence, we have weathered a number of difficult circumstances, including the impact of El Niño Costero in Peru in 2017, the hurricanes in Costa Rica and the Caribbean in 2018, the civil unrest in Chile in 2019, and most recently the unprecedented impacts of COVID-19.
Our years of working bi-regionally as a team have demonstrated that museums cannot only plan and prepare for a disaster, but can also be reliably called upon to help communities recover when disaster strikes (both in the short and long term), and to engage in processes of documentation and memory of traumatic events (https://www.eu-lac.org/vmcarib/panels/). By highlighting their social function, museums can take on a relevant role in the containment, reflection, and memory of crises – when they are over.
During the second Webinar to be held on 29 June 2020, researchers from European and Latin American museums will share insights from their case studies affected by crises. Then, the third and last Webinar on 10 July will be specifically devoted to the role of digital technologies during the COVID-19 pandemic.
Speakers will be invited to speak for ten minutes each, followed by a Q&A. The webinar will be in English, with moderation in English and in Spanish, and will commence at 4 pm BST.
The webinars will be hosted on zoom, and a Zoom link provided soon through our project Facebook page [https://www.facebook.com/eulacmuseums]. Moderators Karen and Lauran will be taking questions via live chat on Zoom at the end of the webinar.

Webinar 2 & 3 will be chaired by Karen Brown and co-moderated by Lauran Bonilla-Merchav who will be taking questions from the Live Chat on zoom at the end of the webinar.

The webinars will be archived with subtitles in Spanish for future viewing in the EU-LAC-MUSEUMS Youtube Channel 'Museos Comunitários' [https://www.youtube.com/channel/UCN8SSB51YZ15-8Fc_8CTUlw].

Follow the event on social media using the hashtags #eulacmuseums #horizon2020 #h2020 #sustainablemuseums.