Print
News | Noticias | Nouvelles
Title
Results Webinar 1: 'Community-based museums in times of crisis'
Image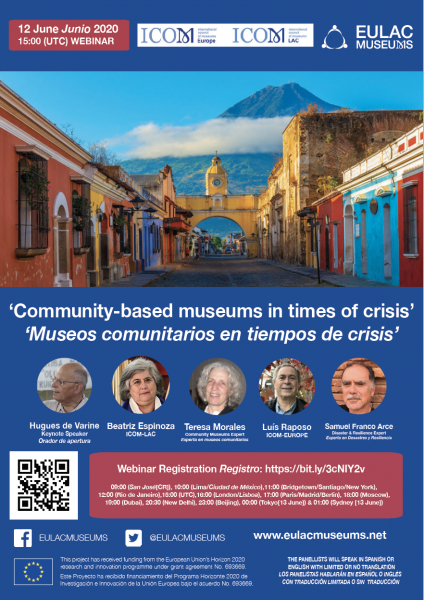 Participation
Hosted through a collaboration of the EU-LAC-MUSEUMS project, ICOM-Europe and ICOM-LAC (Latin America and the Caribbean), the first webinar's keynote speaker is Hugues de Varine, former director of ICOM (1965-1974), consultant in local and community development, a researcher on heritage practices and policies. He is also a member of the EU-LAC-MUSEUMS Advisory Board.

The five speakers in the first webinar are members of our EU-LAC-MUSEUMS Steering Committee and Advisory Board, each with advanced expertise in community-based museums and social resilience who have written for our project compendium 'On Sustainable and Community Museums' [https://eulacmuseums.net/index.php/detail-2/detail-4/207-compedium].

689 people registered via Zoom;
In total, 3,445 automatic emails were sent to the people registered (5 each estimated);
We reached a high of 292 people viewing via Zoom on Friday 12 June;
924 people have seen the webinar via Facebook in total;
03:31hrs of video recording;
188 people engaged with the webinar via Facebook by 'Liking', 'Commenting' or 'Shared' the webinar;
1,416 people clicked the link on our advert via Facebook;
184 people shared our advert via Facebook;
Our Facebook advert operated worldwide to anyone with interest in museums, heritage, sustainability, culture and resilience;
129 people (and rising) have requested Certificates of Participation; and
Our Facebook page gained an additional 162 people who subscribe to our project, reaching a total of 10,524 people who 'Like' it and 10,703 people who follow it. (For perspective, the official ICOM page has 33,550 Likes and 36,674 followers).