Print
News | Noticias | Nouvelles
Title
Reading Group: Discussion of Deliverables from Final Reporting Period
Grupo de lectura: Debate de Entregables del período final de presentación de informes

Image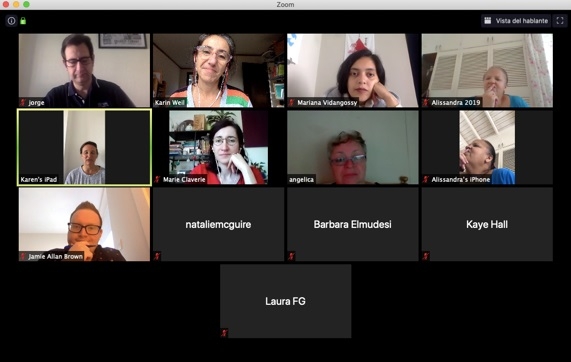 Participation
Con el propósito de profundizar y desarrollar un mejor entendimiento de los procesos de investigación aplicada y resultados en el marco del proyecto EULAC MUSEUMS, se proponen sesiones de trabajo y reflexión sobre alguno de los resultados del proyecto.

El primer documento compartido fue el Manual de recomendaciones para museos integrados desarrollado como producto final del equipo de Chile y con la colaboración, como coautores, de otros colegas del consorcio como representante de las comunidades de los museos de la Región de Los Ríos y profesionales de áreas muy diversas.

La discusión fue muy interesante, haciendo énfasis en la relevancia del territorio en la construcción de identidades, la necesidad de desarrollar propuestas basadas en la cooperación y colaboración con el propósito de validar y valorar en equidad el patrimonio comunitario. La necesidad de aplicar propuestas metodológicas en coherencia con los procesos de decolonización.

La reunión contó con la participación de los socios e investigadores del consorcio y también de algunas de las autoras del Manual, destacando especialmente la participación de Angélica Navarrete, directora del Centro Cultural Memoria y Museo de Neltúme y autora del capítulo Experiencia comunitaria del Centro Cultural Museo y Memoria de Neltúme, Mariana Vidangossy, conservadora y autora, junto con Bárbara Scheel, del capítulo La documentación integral de colecciones.

In order to deepen and develop a better understanding of the processes of applied research and results in the framework of the EULAC MUSEUMS project, working sessions and reflection on some of the project's results are proposed.

The first document shared for the discussion was the Manual of Recommendations for Integrated Museums developed as a final product of the Chilean team with the collaboration, as co-authors, of other colleagues of the consortium as representatives of the museum communities of the river region and professionals from very diverse areas.

The discussion was very interesting, emphasizing the relevance of the territory in the construction of identities, the need to develop proposals based on cooperation and collaboration with the purpose of validating and valuing in equity the community heritage. The need to apply methodological proposals in coherence with decolonization processes.

The meeting counted with the participation of the partners and researchers of the consortium and also, some of the authors of the Manual, highlighting especially the participation of Angélica Navarrete, director of the Cultural Center Memory and Museum of Neltúme and author of the chapter Community experience of the Cultural Center Museum and Memory of Neltúme, Mariana Vidangossy, curator and co-author, along with Bárbara Scheel, of the chapter The integral documentation of collections.

Country
Scotland, Spain, Barbados, France and Chile
Type
Grupo de lectura / Reading Group