This booklet has been developed in collaboration within the "Museum Education for Social Inclusion" Work Package 4 of the EU-LAC-MUSEUMS project.
The Bi-Regional Youth Exchange was coordinated by the Museums, Galleries and Collections Institute (MGCI) within the School of Art History at the University of St Andrews (Scotland), Museo Nacional de Costa Rica (Costa Rica), Red de Museos Comunitarios de América (Mexico), Universidade do Porto (Portugal) and Museu Nacional de Arqueologia (Portugal).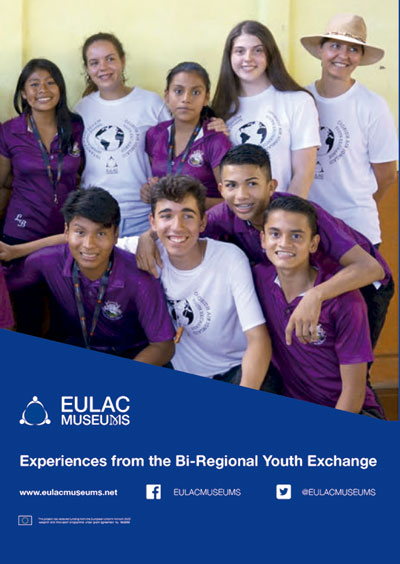 Experiences from the Bi-Regional Youth Exchange
There is no time like the present to ensure young people have every opportunity to contribute to their communities, promote their heritage, participate in decision making and challenge the threats that they and their community may face.
The young people involved in this EU-LAC-MUSEUMS Bi-Regional Youth Exchange have demonstrated their capability of engaging in heritage, discussing the problems their communities face and finding solutions for the future. Through EU-LAC-MUSEUMS, each young person has recognised working within a bi-regional basis can be both be a transformative and valuable experience, discovering that although they are miles apart each individual and community faces similar issues but together they can find common answers through heritage-based activities.
This booklet shares a selection of the experiences from the Bi-Regional Youth Exchange between Europe and Latin America.
Contributors:
The quotes in this booklet were collected as part the Bi-Regional Youth Exchange reflection activities facilitated by the following EU-LAC-MUSEUMS researchers:
Dr Karen Brown, University of St Andrews, Scotland
Jamie Allan Brown, University of St Andrews, Scotland
Ronald Martínez Villarreal, Museo Nacional de Costa Rica, Costa
Rica Paula Menino Homem, Universidade do Porto, Portugal
Edited by:
Dr Karen Brown and Jamie Allan Brown
Designed by:
Jamie Allan Brown
Further information:
This email address is being protected from spambots. You need JavaScript enabled to view it.